Shift_lurker
Join Date: Sep 2010
Location: South Louisiana
Posts: 21
Mentioned: 0 Post(s)
Tagged: 0 Thread(s)
Quoted: 0 Post(s)
Quote:
Originally Posted by
nissanbyblood
Thanks Im going friday because I dont want to wear these 20'' tires out prematurly have you priced them lately? Good Gah
Thats what I thought till I priced tires for an 18" rim.
Now with the Titan in the stable, I have two trucks with 18" rims and the ole ladys car has 19" rims on it. Not looking forward to buying tires!!
Shift_lurker
Join Date: Feb 2013
Location: nc
Posts: 1
Mentioned: 0 Post(s)
Tagged: 0 Thread(s)
Quoted: 0 Post(s)
prg 1.5 leveling kit
---
Quote:
Originally Posted by
nissanbyblood
So Friday I took bout 4 hours or so and installed the PRG 1.5'' Leveling spacer for the front of my 09 CC 4x4 Titan tell me what ya guys think. I know its a bad pic but you can see the diff. And with it being a 1.5 spacer do I need to get my front end lined up? I drove it and it doesn't pull to one side or the other at all.
During Install In My Drive Way!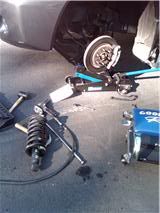 Before The Kit!
After The Kit Install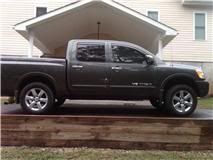 Install was fairly easy with the help of a friend just to act as another hand a few times! Really glad I purchased that air compressor now it helped alot!
I just bought today having it installed on friday and alignment
Posting Rules

You may not post new threads

You may not post replies

You may not post attachments

You may not edit your posts

---

HTML code is Off

---