Shift_lurker
Join Date: Feb 2009
Posts: 46
Mentioned: 0 Post(s)
Tagged: 0 Thread(s)
Quoted: 1 Post(s)
Backlite Lights for Fan, Temp, Vent Control
---
Wondering if anyone knows how to change the backlite bulbs that light up the fan, temp, and vent control knobs? My light on the vent discharge location has gone out. Thanks for anyones help.
SHIFT_Mr. Quick Answers
Shift_Obsessed
They're LEDs bulb. You will need to desolder old bulb and solder in New bulb with a resistor.
If all 3 are out, try playing with the dimmer switch, roll it up and down a few times.
That fix it sometimes
Sent from my 2005 Red Alert Titan via the Autoguide app on my ASUS Transformer.
---
Titan/Armada part numbers
Nissan's OBD II codes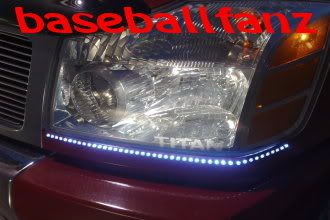 Truetrac 305.5 WHP 370.4 ft/lbs tq.
Posting Rules

You may not post new threads

You may not post replies

You may not post attachments

You may not edit your posts

---

HTML code is Off

---