Shift_lurker
Join Date: Nov 2007
Posts: 3
Mentioned: 0 Post(s)
Tagged: 0 Thread(s)
Quoted: 0 Post(s)
help with wheel and tire size
---
2004 titan cc off road. Stock suspension. I am looking to by new wheels and tires and would like to have the tires outside the fenders about 1 to 1.5 inches. Looking to move up to 20 inch wheels with an aggressive tread. What size and off set for wheels and tires would you suggest without having to cut anything. I will also be looking at adding a 6 inch suspension lift or the 5 inch pa lift later. Currently running stock wheels and 295/70/17

Thanks for any suggestions and if anyone has a pic of a truck with the look i am going for with the stock suspension that would be great
Site Sponsor
Shift_Enthusiast
Join Date: May 2008
Posts: 385
Mentioned: 0 Post(s)
Tagged: 0 Thread(s)
Quoted: 1 Post(s)
20x9 with a -12mm offset (4.5" backspace) would put your new wheels and tires where you want them.
For tires, I'd recommend no larger than a 33" tire until you install your lift.
305/50R20 or 295/55R20 would be good sizes to look at. These may require a little fender liner cutting or the removal of your mud flaps if you have them but that should be it.
Here's my titan with 6" lift and 18x9 -12mm offset wheels with 35x12.50R18 tires (+bushwacker flares). A 20x9 -12mm offset would stick out the same. (You'll have to imagine it without the flares but here's the pics)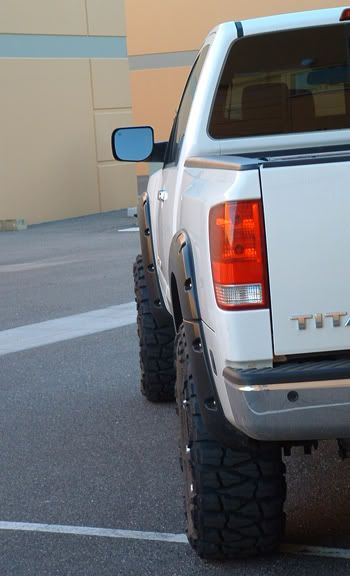 Posting Rules

You may not post new threads

You may not post replies

You may not post attachments

You may not edit your posts

---

HTML code is Off

---