Discussion Starter
•
#1
•
Its finally happening after waiting 2.5 years and getting other modifications installed, and gathering parts for this JWT camshaft installation.
I chose to have my local Nissan dealership do the installation after speaking with the mastertech who has turned out to be awesome to deal with and is a few years younger than I am.
The parts getting installed are:
-Jim Wolf Technology C8 intake cams (for cvtcs phasers) and S7 exhaust.
*C8 is 272 duration/ .473" lift
*S7 is 262.5 duration /.450" lift
-32 of JWT valve springs
-OEM NISSAN Timing chains, Guides (slack & Tension) , Tensioners, misc O rings.
- Oem Oil pump, which was modified by 5523 Motorsports. Modifications include hand porting the housing and WPC treating the pump gear set.
Also, the dealership is completing some Warranty/Recall work which includes the Fuel Level Sending unit and brake pedal pin.
Lastly, i'm also having them replace the carrier bearing with OEM nissan bearing.
Overall cost is around $1800, and around 17hrs of work.
Now, the way this shop did the install (in progress) is they have removed the cab itself, which is pretty cool , but quite the shock when the mastertech sent me the picture. I was like Holy... Sh!tttt... But... no worries, the cab comes off by removing 8 bolts and disconnecting a few lines and hoses, with a couple connectors.
Diesel trucks and other platforms go this route, and it sure does free up a lot of space, its crazy too see how the titan is assembled when its down to the bare frame.
Some camshaft details below.
Stock 2007+ VK56DE CVTCS cam phased engines camshaft spec card
My JWT C8/S7 camshaft spec card
Lastly, the JWT camshaft orientation sheet and my camshafts laid out matching the diagram.
So without any more talking, here are the pictures so far of my JWT camshaft install progress.
This is my truck at the nissan dealer with the cab separated. And someone made a meme which i thought was great!
Passenger side view looking up at the cab... all that stuff disconnected lol.
Front cover removed exposing the OEM factory chain system, notice its a 2007+ engine with intake CVTCS cam phasers. Very clean for 150k miles.
Passenger side OEM cams, valvetrain looks great at 150k miles. Used synthetic 5w40 Rotella T6 and Pennzoil Platinum 5w40. No issues.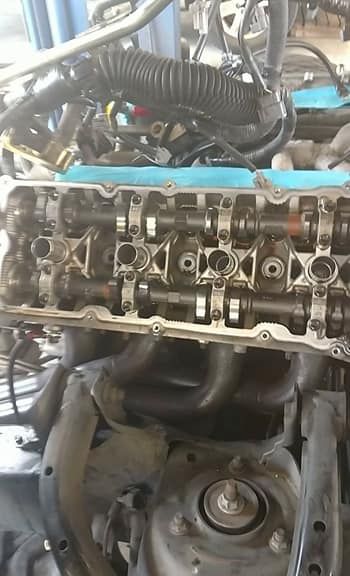 Upclose view of the OEM cams and valve train upon first removal, like I said, looks great with 150k miles of proper maintenance intervals.
Rear angle views of both passenger and driver side, exposing the headers too. Custom 1-3/4 x 3 pacesetters/Vibrant 4-1 merge collectors.
Front Timing Cover removed as well as all the OEM chain system and oil pump, etc.
Close up of passenger side bank you can see the OEM cams still installed.
Cool photo up close of the crankshaft snout showing the teeth for the chains, oil chain squirters/jets as well as a tensioner locked with a push pin.
Driver side view of the oem nitrided lifted buckets still looking shiny. Air hose present to pressurize the valves to hold them in place when exchanging the valve springs. Everything is so clean looking! Plus a cool view of the 1-3/4 custom headers and the PML deep pan on the transmission.
Took this picture during the installation of a JWT valve spring. The mastertech walked me through the process of removing and reinstalling the OEM spring to the JWT valve spring and shim while using the supplied JWT valve spring compressor tool. Simple process, just make sure to not let those Keepers go flying away into another dimension.
Got the mastertech in the photo, this was during the process of removing and reinstalling valve springs.
I really like this photo of the headers and how it all looks together without everything being in the way! Gives a great perspective.
Some photos I hope Jeff at Cajun B pipes sees, as this is his handy work getting the basis of this design and supply the titan community. This is 3'' Catless B pipes Vbanded together with single 3.5'' Vibrant Y pipe. Parts provided by Cajun B pipes and can't thank him enough for supporting me during this build. It looks really good with the Cab off the truck!
My 5'' mishimoto intake setup just chilling on my fuel tank, which is getting a new fuel level sending unit under warranty. Removing the cab is easier than the fuel tank in this particular situation lol. whatever works!
Close up of the fuel pump hat assembly on top.
Pictures of the OEM modified oil pump housing and WPC treated pump gears. (pump gears have assembly grease on them as well to aid in priming upon first start pressurization).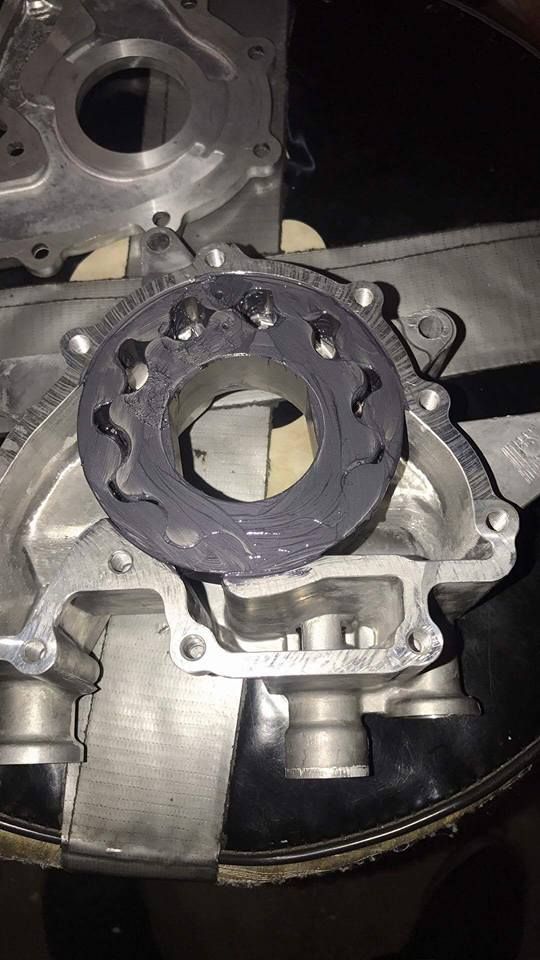 Also, my new OEM valve covers I painted with a graphite metallic.
That is it for now, the truck should be done in a day or so. I will add more pics to this post as I get them as well as videos of the final product, which is what we all want to see and hear is the ''lope''.
Tuning will be done at Z1 Motorsports in Georgia in the next week or so, but i'm going to try to dial it in to keep it safe to drive on the street until the time being. Just no WOT pulls unfortunately until the dyno tune.
6/22/2017
Its OFFICIAL the first custom combination of JWT C8/S7 have been installed into a Titan and Vk56DE for that matter. Very cool to finally see them in their rightful home!
Dowels at 12'o clock as they should be at TDC. All the first lobes are pointed in the correct direction.
Lash was .012" across the board with the exception of two being at .013''! Which is still within the JWT cam spec card margin of lash that happend to be .011'' to .013". That is quite remarkable actually, very happy to see that the engine didn't need new buckets. Thank god...
More pics to come soon!