Discussion Starter
·
#1
·
The Nissan Offroad Association of the Southeast Presents: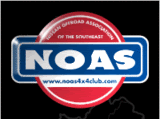 Uwharrie NOAS Fall Run 2008
When:
Friday, October 8th through Sunday, October 10th
Where:
Uwharrie National Forrest - Troy, NC
Who:
Anyone with a Nissan is invited to come, paid member or not. MUST BE ATLEAST 18 YEARS OLD.
Cost:
$5 a day / $30 a year
Passes can be bought at the following locations:
Donnie Mullinix Store – Hwy 109, Uwharrie
Eldorado Outpost – Hwy 109, Uwharrie
Swift Island BP – Hwy 24/27 and River Road
Jake's Store – Hwy 109, Troy, NC
Camping/Lodging:
camping at Deep Water Horse Camp as we have in previous years.
Trails:
Uwharrie has trails of varying difficulty, easy to modified. Most trails have hard lines and bypasses for those who are up for the challenge. Runs and a trail schedule will be decided upon Friday evening. We will break down into groups to avoid trail congestion.
Easy trails: Passable by most stock Nissans*
Modified: Lift or 31" tires recommended*
(Stock Hardbody should be OK. Stock R50 might have issues)
Difficult: Lift, aggressive tires, winch recommended*
Extreme: Lift, tires, winch, lack of concern for damage*
*Keep in mind that you will be taking your vehicle over rough terrain and will be taking the chance of damage including body damage, rocker panel dents, tree limb scratches, under body damage, etc.
Weather:
The weather in NC can be unpredictable. Always be prepared for the worse. Due to the time of year this even is scheduled it is possible that it will get cold at night or even during the day so bring adequate clothing and sleeping gear. We advise checking the weather before you leave in the chance that extra preparation is needed for rain or freezing conditions. We are die-hard wheelers and won't call off the event unless there are extremely bad weather conditions called for.
Troy, NC Weather
CB and FRS:
CB is the preferred method of on trail communication. FRS can be used but has a very limited range compared to CB. Channel will be determined on site to ensure we can pick a quiet one.
Directions:
The best address for directions is:
ElDorado Outpost
4021 NC 109
Troy, NC 27371
Other Info:
Many of us like to get there Thursday night to setup camp and socialize around the camp fire. Everyone is more than welcome to be there early and join in on the fun!